Sunday, January 3, 2010 at 12:00PM
One of my favorite craft book series are the 99 Ways books. I have both the
99 Ways to Deck out Your Denim
book, and the
99 Ways to Cut, Sew, Tie and Rock Your Scarf
book. The scarf book introduced me to
Vera Neumann
scarves, which I have been collecting obsessively since.
I thought I would post a few photos of my scarf (& napkin) collection and a roundup of the best Vera information I have found online.
First link is
The Vera Company
which now owns all Vera prints and is trying to resurrect the brand, selling the designs to Macy's (very nice table linens) and Anthropologie (clothes, scarves, and housewares). The most exciting is their announcement that they will be releasing a book (with lots of photos!) in March 2010. They also have their own
blog
which features lots of scarf tying tips. (Although my favorite scarf tying guide is the
Play Time with Your Hermes Scarf
pdfs)
My next favorite resource are the flickr groups
Vera Neumann
and
Vera Textiles
which feature hundreds of stunning photos of Vera designs.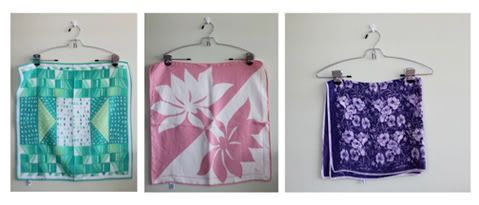 Design*Sponge visited
the Vera exhibit
at a NY Anthropologie.
The Smithsonian
featured Vera
at a 1972 exhibit and even commissioned her to design a poster, which has sadly sold out.
The W Magazine
posted an article
with Anthropologie's Chief Merchandising Officer, Wendy Wurtzburger, about their collaboration with The Vera Company. Check out the photo of the beautiful Central Park scarf.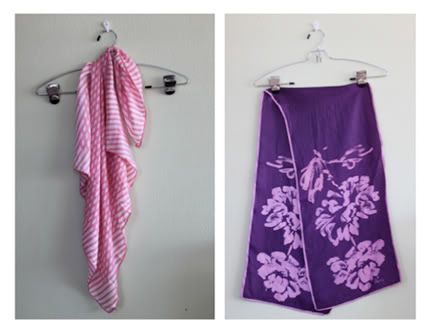 Scroll through all of True Up's
posts tagged with Vera Neumann
for some lovely photos.
Retro Age Vintage Fabrics posted a
1964 article about Vera and her husband
.
Fizzy Lizzie has a
beautiful overview of Vera information
, including how to date her pieces based on the signature.
The design site Ars Longa, by Scott Lindberg, also
features some great Vera information
. You might recognize Scott's enviable collection of Vera designs from the flickr groups.
Miss Modish
wears a gorgeous Vera blouse.
The Fashion Lawyer
interviews Susan Seid
of the Vera Company.
Ouno Designs creates
patchwork bed quilts
from vintage scarves.
Most importantly, my favorite resources for buying Vera are
Etsy
and occasionally I'll try my luck with
Ebay
.
Lastly, for general scarf knowledge, my new favorite website, Corporette, answers the question
How to Wear Silk Scarves?
and Brooks Brothers has another
lovely scarf styling guide
.
My flickr favorites:
1.
Vera Linen Set
, 2.
Vera Scarf
, 3.
vera mod napkin
, 4.
Vera at the Smithsonian
, 5.
VERA napkin
, 6.
Vintage Vera at Anthropologie
, 7.
Vera Neumann Scarf
, 8.
Vera Neumann Daisies
, 9.
Vera napkins
, 10.
Vera napkins x 4
, 11.
Vera Neumann Scarf
, 12.
Vera Neumann napkin
, 13.
Vera Neumann napkin
, 14.
Vera napkins
, 15.
The catch of the day!
, 16.
thrifted vera napkins
, 17.
vera butterfly napkin-rectangle
, 18.
Vera Pink Butterfly Round Placemat
, 19.
vintage vera neumann floral napkin
, 20.
Vintage Vera Neumann Tea Towel - Kitchen Linen Calendar or Wall Hanging 1982
, 21.
Orange and Red Vintage Vera 1
, 22.
Vera Neumann Scarf
, 23.
vintage vera for mikasa plate set
, 24.
Vintage Vera Neumann Mikasa Tea Cup and Saucer Set
Never Yawn
|
2 Comments
|
6 References
|