Saturday, May 23, 2009 at 12:00PM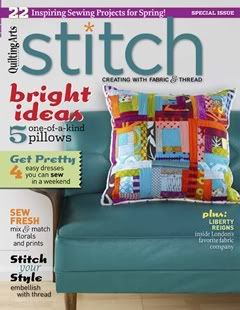 I took a brief blogging hiatus to finish up some work and personal projects, but now I'm ready to be back to posting more regularly.
The second issue of
stitch
arrived in early May and I love it just as much as
the first issue.
My only complaints with the magazine is that I wish there were more projects, that I hate to wait until October for the next issue, and that I wish there were instructions for the cute bowl/birdnest on page 31.
My favorite articles were "all about thread" because I learned what thread to use on jeans, "Liberty for all" for teaching me a bit more about Liberty fabrics, "print me" about different fabric printing methods, and "the whir and power of making" about the Make Workshop for its beautiful inspiration board photo.
My favorite projects:
Amy Karol's
super creative Monogrammed Pillow,
Kevin Kosbab's
modern-styled E-ticket wallet, and
Malka Dubrawsky's
Pi Pillow. I also loved the dress patterns, but with
my skirt pattern problems
from the last issue, I probably won't be daring enough to try those.
stitch is a beautiful magazine that I'm sure I'll keep forever (rather than tearing out the projects I like best) to flip through its well-designed and inspiring pages.